Thorough quality control system
●Separate injection molding machines with material supply system.

●Material supply system is set one by one with hoses that can supply and recall material.

●Not operate in injection molding line with material that is easy to case dust.

●Enter production area by air shower room and control temperature and humidity by air condition with 4 stroke filter.

●All employees must wear dust-proof clothes.

●Set up a clean booth in cleaning injection molding room.



Inspection equipment  Total 453 sets
●Control PQC and OQC separately. Control quality of products with 90 employees to prevent defective product. ●Equipped with OLYMPUS measurement microscope and NEXIV (automatic measuring equipment ). ●One leader manages 20 worker, 450 inspections check finished product one by one by stereo microscope. ●New workers are trained for 1 week and then they will take a patch test. The person who gets 100 marks permitted to join in inspection line. Do patch test every 6 months. ●Do the service of inspection electronic part for other companies.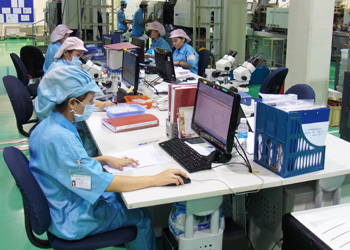 【パトロール検査】 全ての成形機から3時間ごとに抜き取り検査を行っております。また、検査の結果データ、サンプルは全て記録・保存。 これにより生産中の品質管理、不良流出を防ぎ、 常に高品質な製品をご提供できるよう努めております。

■ ISO 9001:2008 ■ ISO 14001:2004 ■ IATF16949 ■ ISO13485 ■ OHSAS 18001 << クリックすると拡大表示されます。