What is Fact-Link ?
FactLink Vietnam is a company introduction site for manufacturing companies based in Vietnam. We utilize the database of more than 3,000 registered manufacturers and factories and help you to search for suppliers and factories in Vietnam. The information posted includes business domain, products, location, industrial park, and contact information. We also provide services to support the manufacturing industry in Vietnam, such as factory searching support. Please contact us via phone ((+84)888767138) or Email (info@fact-link.com.vn)

FEATURE ARTICLE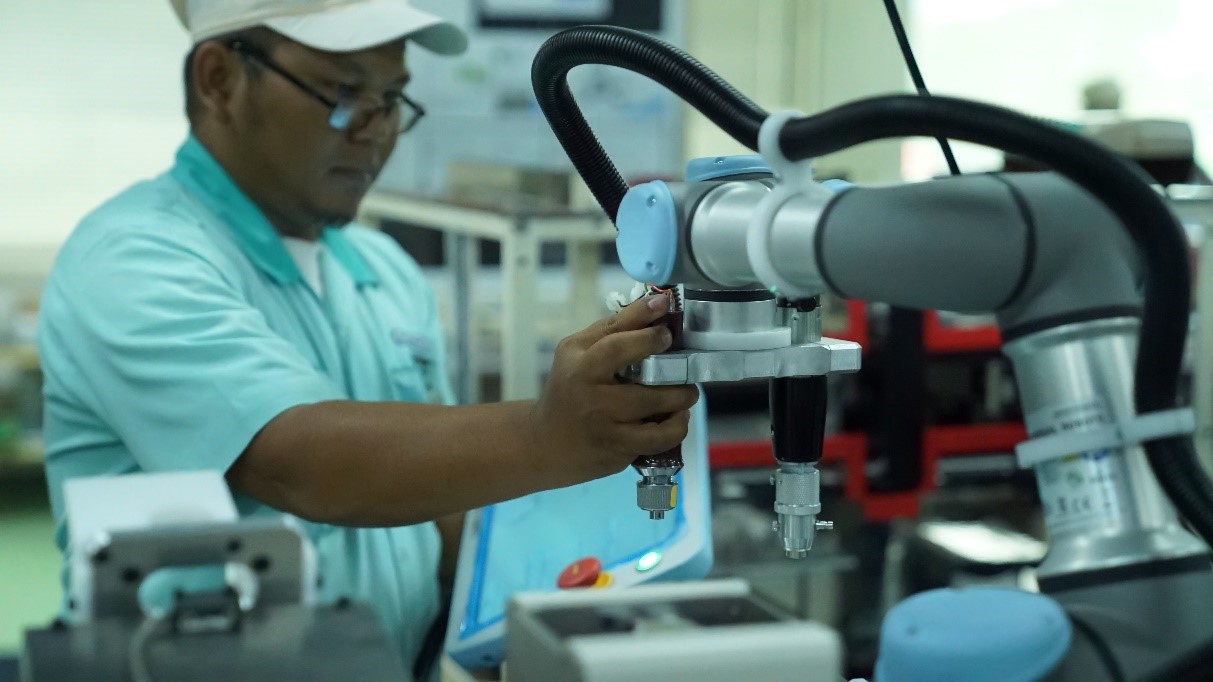 UNIVERSAL ROBOTS
How to improve productivity and performance quality while reducing yearly operational costs by USD 80,000?
PT JVC Electronics Indonesia (JEIN), a part of the global leader in electronic and entertainment products JVCKENWOOD Group has
improved its production processes and workers' safety
by adopting collaborative robots, or cobots.
The robot arms are deployed for pick and place, screw driving and soldering applications, helping the company save yearly operational costs by more than
USD 80,000.
It takes just a few minutes to learn about human-robot collaboration, and just hours to deploy a cobot in your facility.
What are you waiting for?
Read the case study and find out how JEIN has deployed our smart cobots.
Our blog
is full of expert tips and case studies that show how your peers (and competitors!) are getting ahead with our cobots. Or
contact us
for more details about Universal Robots and see what we can do for you.
Hotline: 0983 24 38 23 (Zalo, WhatsApp)
The Universal Robots team
---

---


INTRODUCE COMPANY
KOEI VIETNAM CO.,LTD.

---

---

Plastic pallets, WPC (wood plastic compound), Plastic molded products, Recycled mater
KOEI VIETNAM CO.,LTD. sells plastic pallets, wood plastic compound (WPC), plastic materials, used machinery, recycled materials, and other Vietnamese products. As investment in Vietnam becomes more active in the future, Koei Industrial Co., Ltd established KOEI VIETNAM CO.,LTD. in December 2011 to analyze the situation and market in real time and to serve as a source of information for our customers. In fiscal 2012, we established a subsidiary, Koei Toda Factory, to manufacture and sell plastic pallets and WPC (wood plastic decks).

VINA MELT TECHNOS CO.,LTD

---

---

Compound extrusion of 2/3 colors forming and 3D forming etc.
Specialized in extrusion by one kind material, 2 kind materials, 3 kind materials and can be 3D extrusion. Also extrusion by simultaneously with hard & soft materials, steel, thread, film, steel wire.

Product line:
1. Extruded product: Auto parts, building material and stationery parts
2. Injection molded product: Auto parts, Home electronics parts, Electric and electronics parts, and Medical parts
3. Our production equipment: Injection machine has 7 units by range of 50 ton to 220 ton. Extrusion machine has 8 units by range of 40 mm to 65 mm screw and can be products with polyvinyl chloride, all kind of thermoplastic resins.

Saigon Trading & Packaging One member Limited Liability Company

---

---

The one of the top flexible packaging manufacturers in VN.
Specializes in producing flexible packaging such as: Rolls, Bags, Confectionery, candy, Tea, coffee, powdered milk, Foodstuffs, Snack cake, Lidding cup film available for low temperature sealing, Detergent, ....
From the point of view of the users, a package of Saigon Trapaco was born in the form of a feeling that it is esier to use, more beautiful and un-defeated content. In the food field, there are various items such as sweets (snacks, chocolates, candies...), retort foods, frozen foods, health foods, agricultural products, beverages ... etc.
---
YUWA VIETNAM CO.,LTD

---

---

Acquired of ISO13485 ! Injection molding of precise plastic part, make and process mo
We can meet consistently from mold design and manufacturing to injection molding, heat treatment and inspection in Vietnam.
We use the injection machines of 5t-200t and specialize the small-sized precision parts. We also manufacture the mold parts and jig.
* We have been able to meet from mold design and manufacturing, injection molding to Heat treatment, since we had equipped the quenching heat treatment furnace on March 2013.

KTC (VIETNAM) CO., LTD.

---

---

Rubber parts for automobiles, motorcycles, OA rubber rollers
We operate 100-250 ton vacuum automated molding machines and produce each industrial product according to customer\'s specifications. We are undertaking a wide range of parts ranging from automobile / motorcycle parts, mobile phone parts to OA parts such as FAX and printer.

We offer \"One Stop Production\" from material selection to molding, assembly and secondary processing of painting. At the completion of product molding, we utilize non-contact external diameter measuring machine and presented satisfactory data.

Akiba Coating & Technology Vietnam Co.Ltd.

---

---

Processing plated, metal surface treatment and insulating coating
In Ho Chi Minh, we are handling surface treatment such as nickel (electrolytic / electroless) and metal plating such as chrome from electrodeposition coating, and this is an insulation as the only Japanese surface treatment plant.

In cooperation with Japan, we also sell equipment such as plating lines, plating tanks and jigs, and utilize the production technology established within the company to support technical support for kaizen proposal and in-house production .
---
---
FEATURED EVENTS
VIETNAM HARDWARE AND HAND TOOLS 2020

Date: 3rd – 5th Dec, 2020
Venue: Saigon Exhibition and Convention Centre (SECC), 799 Nguyen Van Linh, Dist.
7, Ho Chi Minh City
UPDATE
RECENTLY REGISTERED COMPANY

INFORMATION / EVENTS
Search by Category
Industrial estate (Land for lease, Factory for rent)
Mold Design / Production / Mold Material
Parts processing, machining, assembly
Surface Treatment, Plating and Painting
Printing, Packaging, Label
Equipment, machines, precision instruments, measuring instruments, robots, tools
Friendly - Environment · LED · water treatment · Used Pỏuducts
Construction, Architecture, Construction Material. Raw Material
TRADING
Logistics
Business Support
Consumer Goods and Service