What is Fact-Link ?
Fact-link is an epoch-making site for company introduction related to manufacturing placed in Vietnam. Initially it has set up as a portal site for Japanese manufacturing in Vietnam, in near future we will offer service of supporting manufacturing as wide range of network connect local and foreign-affiliated company with Japanese company.

FEATURE ARTICLE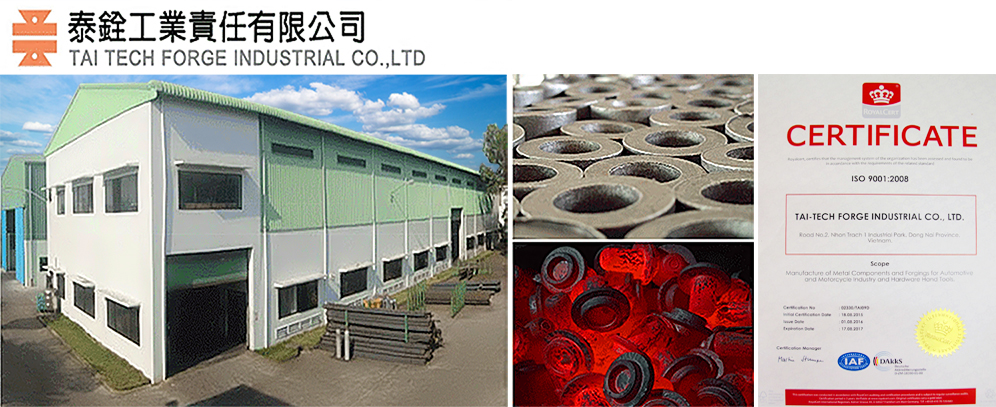 Tai Tech Forge Industrial Co.,Ltd
The Professional Taiwanese hot forging company and 30 years experience, technical mold design, high quality products.
We accept a wide range of order such as OEM and from a small to a large quantity production in Vietnam, so please feel free to contact any time.
---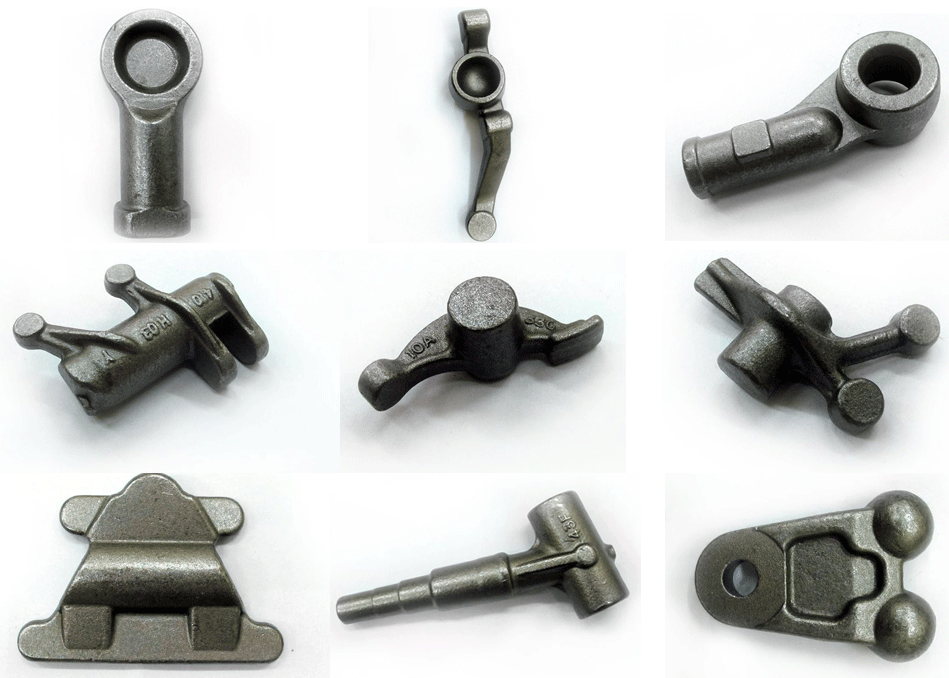 High Quality Hot-Forged Products
【Application】
Automobile parts, Motorcycle parts, ATV parts, Hand tool parts, Pipe fittings, Hammer heads
【Materials】
Stainless Steel, Alloy Steel,
Carbon Steel, Titanium Alloy.
---
From mold design to hot forging, secondary processing and surface treatment
1, Design and repaire mold
2, Cutting materials
3, High-frequency heating furnace
4, Rough forge and Finish forge
5, Trimming
6, Heat treatment furnace
7, Sand blasting
8, Inspection, Package and shipping

---

UPDATE

INTRODUCE COMPANY
KIWA INDUSTRY CO.,LTD.

---

---

Machine processing and precision machining
We undertake all kinds of part processing with the facilities including MC, NC miller, NC lathe, wire cut machine, griding machine, etc. Our company will offer good products for lower price to customers by delivering full support from machine processing, design, production to maintenance to reduce costs.
---
Saigon Trading & Packaging Co.,Ltd.

---

---

The one of the top flexible packaging manufacturers in VN.
Specializes in producing flexible packaging such as: Rolls, Bags, Confectionery, candy, Tea, coffee, powdered milk, Foodstuffs, Snack cake, Lidding cup film available for low temperature sealing, Detergent, ....
---
Nhi Binh Plastic Co., Ltd

---

---

Specialize in plastic injection molding
We make many kind plastic products such as: Engineering plastic parts, Household plastic products, Plastic Toys for children, Plastic parts for industry fields, Products for food and health.....All made to customer specifications & we offer full service: Design product – Make mold - Produce finished products.

Texel Seikow VN

---

---

Sales of corrosion resistant chemical equipment and apparatus
We have always listened to our customers problems and concerns, and by understanding their needs, we have found various solutions enabling us to stay on the path of continuous improvement. Corrosion-resistant / Plastic / Environmental preservation are summed up in our Keyword, and 4 TEXEL products and industries, such as Pumps, fans / blowers, Environmental Equipment and Maintenance, are the embodiment.
---