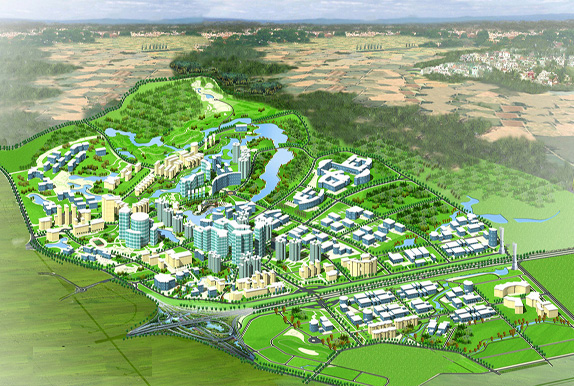 Welcome to HOA LAC!
Since mid 20th century, there had been many hi-tech parks and science parks throughout the world which were established and successful, like Hsinchu Science Park (Taiwan), Sillicon Valley (America), Zhong Guang Cun Hi-tech Park and Dailien IT Park (China), Tsukuba (Japan), Kulim Hi-Tech Park (Malaysia), etc.

In Vietnam, leaders of the Government and Ministry of Science and Technology had given out the idea of establishing hi-tech park since 90's years of the twentieth century and Hoa Lac Hi-tech Park was officially established on October 12th 1998 by Decision No. 198/1998/QĐ-TTg.

Strategic location:
- Located in the Triangle Economic Hanoi - Hai Phong - Quang Ninh
- HHTP is in the core of surrounding The national priority projects such as Hanoi National University, Ethic Culture Village, Ngoc Liep Ecologic Area, Dong Xuan – Tien Xuan Urban Area,…
- Adjacent to Hanoi National University campus with many existing research institutions and potential prospect in highly qualified human resources
- 30 km Westeast of downtown Hanoi captial
- 60 km from Noi Bai International Airport
- 20 km from Son Tay Port
- 150 km from Cai Lan Port and Hai Phong Port
- Along Lang – Hoa Lac Highway (6 lanes, 140m wide, 30km long, with the technical corridor is most modern in Vietnam. The Lang-Hoa Lac Highway connect Hanoi center to North West provinces. Along this highway is a chain of main projects of Vietnam Government such as Trung Hoa – Nhan Chinh new urban area, National Convention Center, My Dinh National Stadium, New campus of Hanoi National University, Culture Village of Vietnam, small and medium-size industrial areas, Vinaconex Water Plant, residential areas and new entertainment centers, etc.

Hoa Lac Hi-tech Park is built as the model of center of development, research and hi-tech applications at national scale where germinate hi-tech business incubation, human resource training, product manufacturing and commercialization. The high and priority technologies in Hoa Lac Hi-tech Park are information and communication technology and software technology; bio-technology for Agriculture, aquiculture and health; microelectronics technology, precision machinery, optoelectronics and automation technology, new material technology, nano-technology; environmental friendly technology, new energy technology…and some other special technologies.



Company Name
HOA LAC Hi-Tech Industrial Zone
Representative Name
General director : Mr. Dang Hoang Anh Tuan
Business Description
Hoa Lac Hi-tech Park is the first and largest hi-tech park in Vietnam with total area of 1586 ha (app. 4000 acres), consists of the following main functional zones:
- Research and Development Zone (R&D) has area of 229 ha, surrounds the Software Park. It is a location for national institutes, labs on hi-tech development and application; as well as expert training on hi-tech fields.
- Software Park has total area of 76 ha, located in peninsula area and surrounded by Tan Xa lake. This Park is for businesses in software development and trading.
- Hi-tech Industrial Zone has area of 549, 5 ha, located in the South of Hoa Lac Hi-tech park. It is the place for hi-tech manufacturing factories, customs clearance, bonded warehouse, etc.
- Education and Training Zone has area of 108 ha, located in the North of hi-tech park near National Road No 21. There are universities, training centers, vocational schools, etc in order to provide high quality labor force.
- Central Area has area of 50 ha, located near Software Park. This is the location for public service facilities such as office building, conference center, post office, hotel and restaurant…etc...
- Service area has area of 87,5 ha. It is multifunction service that includes trading, business, supermarket, restaurant, hotel, public health, welfare of the people…serving for all inside and outside demands of hi-tech park.
Produce
- Software Park
- R&D
- Hi-tech Industrial Zone
- Education and Training
- Center Area
- Mixed Use Zone
- Apartment and Office
- Housing Area
- Amenity Zone
- Park and Sport Area
Address
Km 29, Lang - Hoa Lac Highway,Ha Noi City
TEL
(84-4) 6326 9295
FAX
(84-4) 6326 9290
Email
infor@hhtp.gov.vn
Website
http://www.hhtp.gov.vn
Establish Date
Capital
Parent Company
Shareholder
Employee
Account Period
Bank
ISO
Value Customer
Vietnam:
- Diamond Media JSC
- VietTel & CHT Company LTD
- Vietnam Bank for Industry and Trade
- Thuan Phat IMOSO JSC
- H.P.T Foam Crete., JSC
- VINAGAME
- MISA Joint Stock Company
- Vietnam Shipbuilding Industry Corporation
- Viet Nam Post & Telecommunication Group
- Viet Nam Network Information Center In HHTP
- FPT University
- FC Hoa Lac Technologies Company Limited
- Viettel Corporation
- Tech Business Incubator Hi
- Vietnam Motrology Center
- C.E.O International JSC
- National Institute of Information and Communications Strategy

China:
- Vietnam Sinopharm Pharmaceutical LTD Company

Japan:
- Noble Electronics Vietnam Co.,Ltd

Taiwan:
- OE TEK Incorporated

Viet Nam - Taiwan:
- Viettel & China Telecom Co.,Ltd.

Vietnam - Korea:
- Korea Medicine Vietnam Co.,Ltd.

Vietnam - Italy:
- MEDLAC PHARMA ITALY COMPANY Ltd.